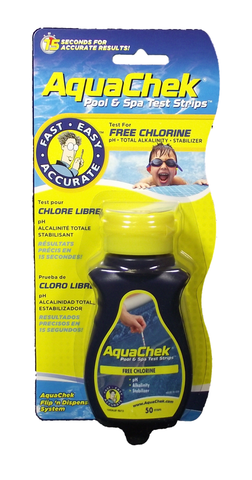 AquaChek® 4 in 1 Chlorine Test Strips (50 strips per tub)
AquaChek® Yellow - Tests for Free Chlorine, pH, Total Alkalinity and Cyanuric Acid (Stabilizer)
Here's a quick, easy way to test your water...get your test results in seconds....
Available today from DiscountPoolStore...It's important to check your spa (hot tub) or pool water and these test strips make it so easy. Just dip an AquaChek Yellow strip in your spa (hot tub) or pool water for one second and remove it immediately. Wait 15 seconds and then compare the strip pads to the colour chart on the bottle. You have the results in seconds! To keep your spa / hot tub at its best, test the water before each use. (Two bathers in a 400 gallon spa are the equivalent of 150 bathers in a 20,000 gallon pool!). Test your pool at each end a minimum of twice a week. It's also a good idea to write down your results each time you test.
FAST || EASY || ACCURATE
Aquachek Test Strips are as accurate as Liquid Kits but faster and easier to use. Produced in a facility that makes test strips for the medical industry under strict ISO 9001 guidelines. Aquachek Test Strips are the World's #1 brand of pool and spa test strips.
Why risk using unknown brands from who knows where when you can buy a recognised and respected brand such as Aquachek at these prices?
With one easy dip, test the levels of:
pH. A proper pH level keeps water from causing corrosion or scaling.
Free Chlorine. An ideal level of Free Chlorine keeps water sparkling clean.
Total Alkaninity. A correct level of Total Alkalinity prevent sudden pH changes.
Cyanuric Acid (Stabilizer). An ideal level of Cyanuric Acid protects against chlorine loss caused by sunlight.
Comes with complete instructions. 50 strips per bottle.
This is a premium, quality product and should not be compared with cheap, inferior products. We have thousands of satisfied customers and you can buy with complete confidence.
Price includes post & packing.
---
We Also Recommend